Genome Sequence-Based Screening for Childhood Risk and Newborn Illness
Robert C. Green, MD, MPH; Alan H. Beggs, PhD
Peter Park, PhD; Heidi Rehm, PhD, FACMG; Pankaj Agrawal, MBBS, MMSc; Richard Parad, MD, MPH; Ingrid Holm, MD, MPH; Amy McGuire, JD, PhD
Currently, the risks and benefits of genomic sequencing for newborns are not well understood. All newborns receive a state-mandated heel stick blood test shortly after birth in order to screen for approximately 30 heritable, treatable conditions such as blood, endocrine, and metabolic disorders. Genomic sequencing has the potential to allow for significantly more extensive screening of disorders that newborns could be at risk for developing during childhood. Earlier diagnosis of these conditions could in turn lead to specific screening, surveillance and treatment options, allowing for more personalized and preventative healthcare.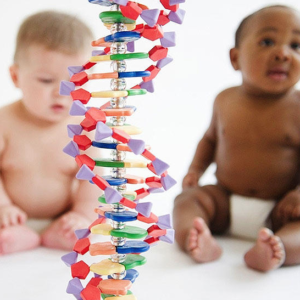 The BabySeq Project is a first-of-its-kind randomized clinical trial designed to examine how best to use genomics in clinical pediatric medicine by creating and safely testing methods for integrating sequencing into the care of newborns. The study has enrolled 325 families, 257 from the well baby nursery at BWH and 68 from the Neonatal Intensive Care Unit at BCH. Each infant was randomized (50:50) to receive genomic sequencing or to a control group. All babies receive state-mandated conventional newborn screening and a family history report, while babies in the sequencing arm also receive a genomic sequencing report. This report contains information about known pathogenic or likely pathogenic (i.e., disease-causing) variants associated with childhood-onset conditions identified in the infant. It may also contain information on "pharmacogenomic" variants, genetic changes that could affect response to certain medications, and the baby's blood type. Babies in the sequencing arm who have, or develop, health conditions that may have an underlying genetic cause may also receive an "Indication-Based Analysis" that can re-examine the baby's sequencing information, with a specific focus on genes that have previously been associated with the baby's specific health condition. We have also enrolled and surveyed pediatricians and other doctors involved in the care of enrolled babies to examine how this information may be impacting a child's medical care.
In order to monitor the long-term impact of the genomic information returned to families, parents enrolled in the study are asked to complete four surveys over the course of the first year of enrollment. These surveys ask questions about how parents have been feeling, their family relationships, genetics knowledge, and the perceived utility of the information they receive. We are examining if there are marked differences between the families who receive genomic information and the families who receive standard of care.
The BabySeq Project is part of a consortium called Newborn Sequencing In Genomic medicine and public HealTh, dubbed NSIGHT, which was granted $25M over a five year period by the National Institute of Child Health and Human Development (NICHD) and the National Human Genome Research Institute (NHGRI) to gather critical research on newborn sequencing. The BabySeq Project is being led by Dr. Robert C. Green of Brigham Women's Hospital and Dr. Alan H. Beggs of Boston Children's Hospital (BCH). Other projects in the consortium are based at Baylor College of Medicine, UNC School of Medicine, UCSF School of Medicine, UCSD Rady Children's Institute for Genomic Medicine, and Children's Mercy Kansas City.
For more detailed information about the BabySeq Project, including recruitment and eligibility details, study design and outcome measures, visit our clinical trial page:
For scientific papers and media coverage, or to donate to our BabySeq Project, visit the links below or email us at babyseq@partners.org.