The Risk Evaluation and Education for Alzheimer's Disease (REVEAL) Study
(R01 HG002213)
Principal Investigator: Robert C. Green
The Risk Evaluation and Education for Alzheimer's Disease (REVEAL) study has made important contributions to the scientific understanding of the emotional, behavioral, and health-related impact of disclosing genetic risk for Alzheimer's disease. The most recent REVEAL trial seeks to build on these past findings by studying individuals with mild memory problems and their caregivers. Data from this trial will inform ethical, social and policy issues in predictive genetic testing in Alzheimer's disease and other common, complex diseases. These issues are increasingly important as genetic testing becomes more widely available, and there is a desire to identify individuals at earlier stages of memory loss among researchers and clinicians.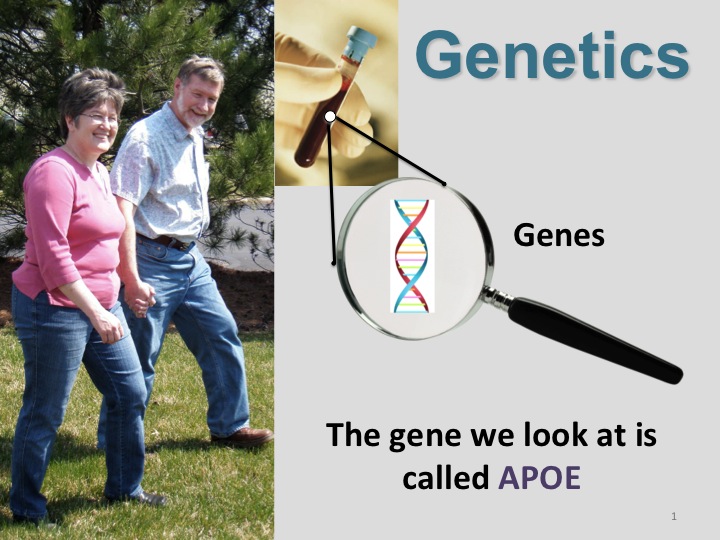 The study has been funded by the NHGRI since 1999 (R01 HG02213) and is currently in its fourth funding cycle. The project is an ongoing series of multi-site randomized controlled clinical trials that provide empirical data to address these ethical, social and translational issues in genetic susceptibility testing for common diseases. Such work has become increasingly important given the expansion of genome-wide association studies identifying genetic risk factors for common diseases and corresponding efforts to commercialize genetic testing using these markers. Our paradigm for these trials is disclosure of Apolipoprotein E (APOE) genotype as part of a risk assessment for Alzheimer's disease (AD) to unaffected individuals. In previous funding cycles we have enrolled over 1100 participants in three separate trials, and we have been highly productive in analyzing many aspects of the psychological impact and health behavior changes of receiving genetic risk information.
REVEAL IV is the first translational genetics study to focus upon the situation where mild early symptoms of a disease (phenotype) and known genetic risk marker (genotype) information can be used together to produce more imminent risk projections. We have developed genetic specific risk curves for patients with Mild Cognitive Impairment, a condition where the APOE e4 allele is associated with more rapid progression to AD and differential response to certain pharmacological treatments. We are examining the impact of "imminent risk assessment" (i.e., risk of conversion to AD within three years) in these individuals and their care partners.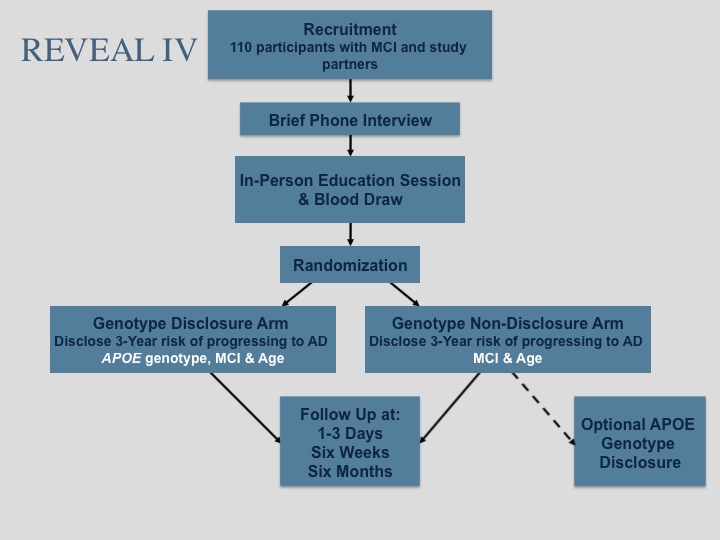 Additionally, as part of the REVEAL Long-Term Follow-Up Study, we are systematically studying the long-term psychological impact and health behavior changes in participants who learned their APOE genotype in earlier cycles of the REVEAL Study, some of whom were enrolled as early as 2000.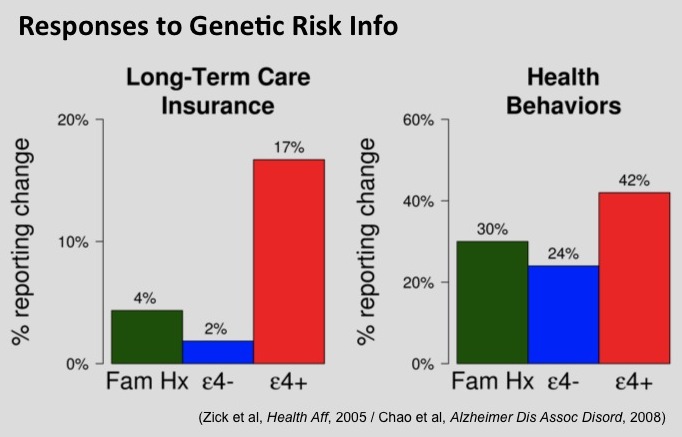 Reports from the REVEAL Study have explored the quantitative development of risk estimates from epidemiological studies and in different ethnic groups, the emotional impact of disclosing risk information, the reasons people seek genetic risk information, issues in self-perception of risk and how these change with genetic testing, the degree to which participants recall their test results or discuss them with others, the degree to which genetic testing affects insurance purchasing, and the degree to which genetic testing alters health behaviors.
Further data from the REVEAL IV Study will help inform policy and practice regarding the use of genetic risk information for common, complex diseases.

Opportunities to support the The REVEAL Study are available.
Please visit the G2P Giving Page to learn more!
The REVEAL Study is closed to enrollment. Our new clinical trial on Alzheimer's disease and imaging, called REVEAL-SCAN, is currently recruiting. See more about the REVEAL-SCAN Study here.
To inquire about the REVEAL studies, please contact Project Manager Sheila Sutti, MS, CGC.