The MedSeq Project: Integration of Whole Genome Sequencing into Clinical Medicine, (HG006500)
Principal Investigator:                        Robert C. Green
Co-Principal Investigators:
Heidi Rehm, Amy McGuire, Mike Murray, Christine Seidman, and Jason Vassy
Genome sequencing services are currently available to and being utilized by physicians and their patients in both research and clinical settings. However, the widespread availability and use of genome sequencing in the practice of clinical medicine is imminent. In the very near future, sequencing of individual genomes will be inexpensive and ubiquitous, and patients will be looking to the medical establishment for interpretations, insight and advice to improve their health.
Developing standards and procedures for the use of sequencing information in clinical medicine is an urgent need with numerous obstacles to integrity and storage of sequencing data, interpretation, and responsible clinical integration. The MedSeq Project seeks to develop a process to integrate genome sequencing into clinical medicine and explore the impact of doing so.
We believe that whole genome sequencing (WGS) will be used in many ways, including two distinct and complementary situations. In generally healthy patients, physicians will use the results of WGS to derive insight into future health risks and inform prevention and surveillance efforts, a category we refer to as General Genomic Medicine. In patients presenting with a family history or symptoms of a disease, physicians will use the results of WGS to interrogate particular sets of genes known to be associated with the disease in question, a category we refer to as Disease-Specific Genomic Medicine.
A research protocol to explore General and Disease-Specific Genomic Medicine
Our research team of over 50 investigators, staff and expert consultants spent over a year designing a protocol to explore the integration of WGS in clinical medicine. We are recruiting and enrolling 10 primary care physicians (PCPs) and 100 of their generally healthy middle-aged patients ages 40-65 to evaluate the use of General Genomic Medicine, and 10 cardiologists and 100 of their patients with hypertrophic or dilated cardiomyopathy to evaluate the use of Disease-Specific Genomic Medicine. We are randomizing physicians and their patients within each of the above models to receive clinically meaningful information derived from WGS plus a family history assessment versus current standard of care plus a family history assessment without the use of WGS.
Our team designed a mixed-methods approach, utilizing quantitative surveys and qualitative methods, to examine preferences and motivations of physicians and patients enrolled, evaluate the flow and utilization of genomic information within the clinical interactions, and assess understanding, behavior, medical consequences and healthcare costs associated with the use of WGS in these models of medical practice.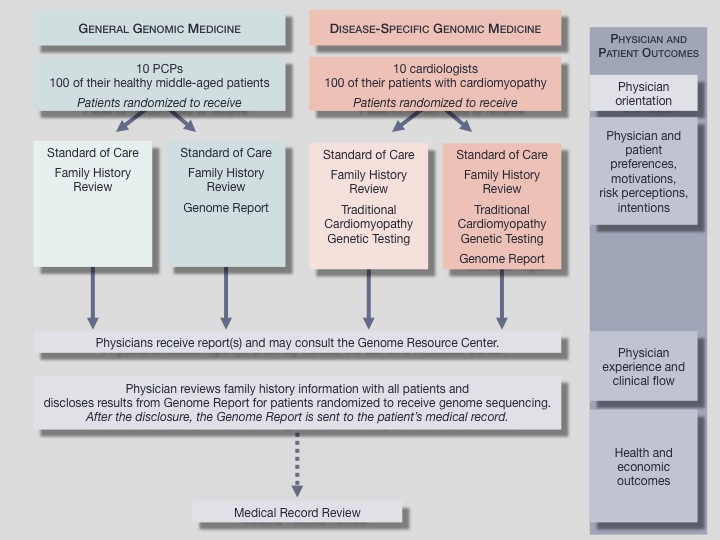 Delivering a genome sequencing information to physicians
Our team designed a process to obtain WGS on the patients randomized into those groups, interpret variants and deliver a Genome Report to the patients' physicians. The MedSeq Project Genome Report includes highly penetrant Mendelian mutations, highly penetrant recessive carrier states, pharmacogenomic associations, and blood group. In addition, a Cardiac Risk Supplement contains more exploratory genetic information related to cardiovascular disease risk and treatment. The Genome Report is delivered to the physician along with patient-e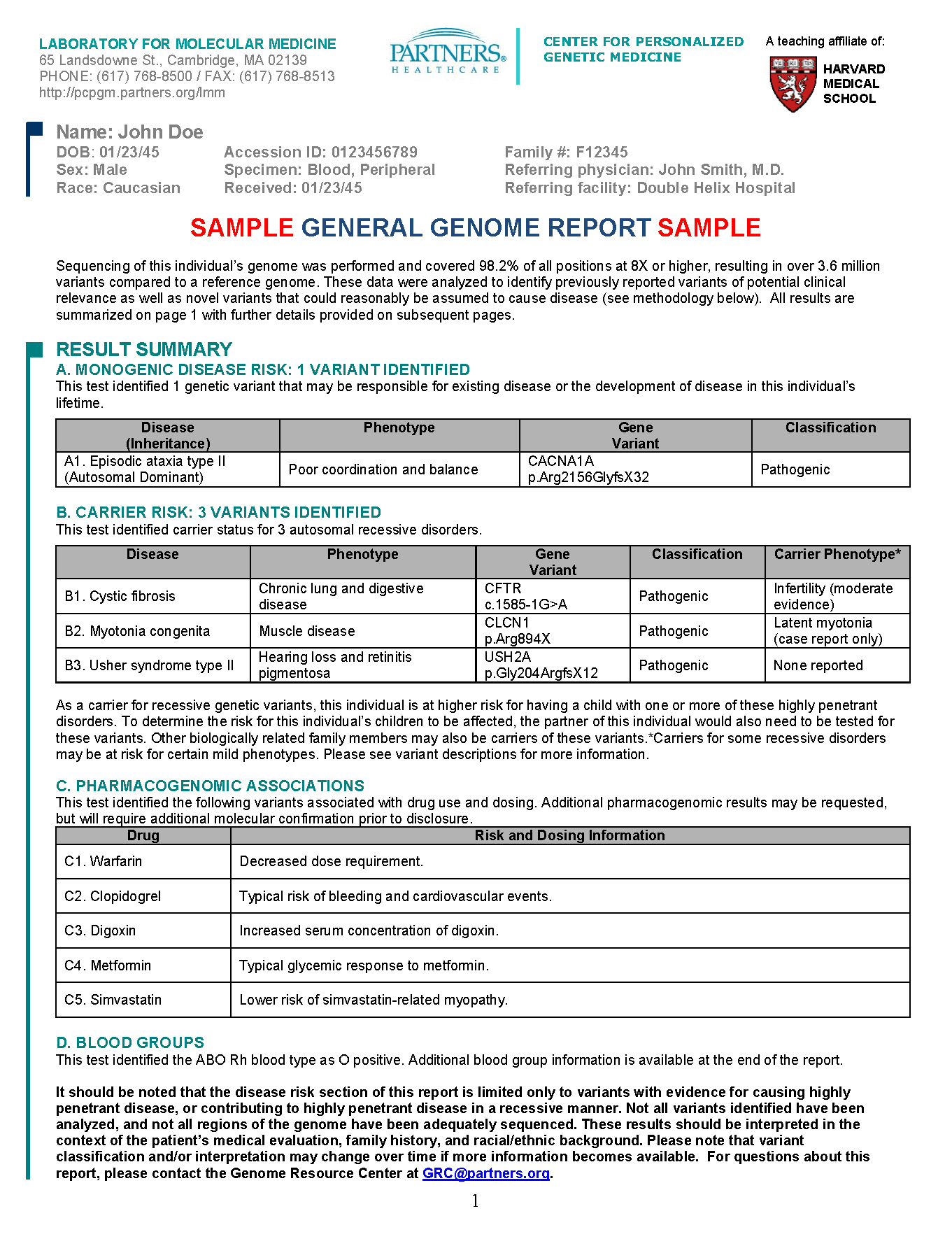 ntered family history information from the US Surgeon General's Family History Tool. The physician reviews the results from the Genome Report and/or family history assessment with the patient in his or her own clinic. Our research team "observes" these interactions via audio recording. After the disclosure encounter, the Genome Report is sent to the patient's electronic medical record using the GeneInsight Clinic® Program through the Partners Laboratory for Molecular Medicine.
Physician support
The team designed an educational module for the enrolled physicians to complete prior to disclosing WGS results to their patients. The module consists of 2 in-person lectur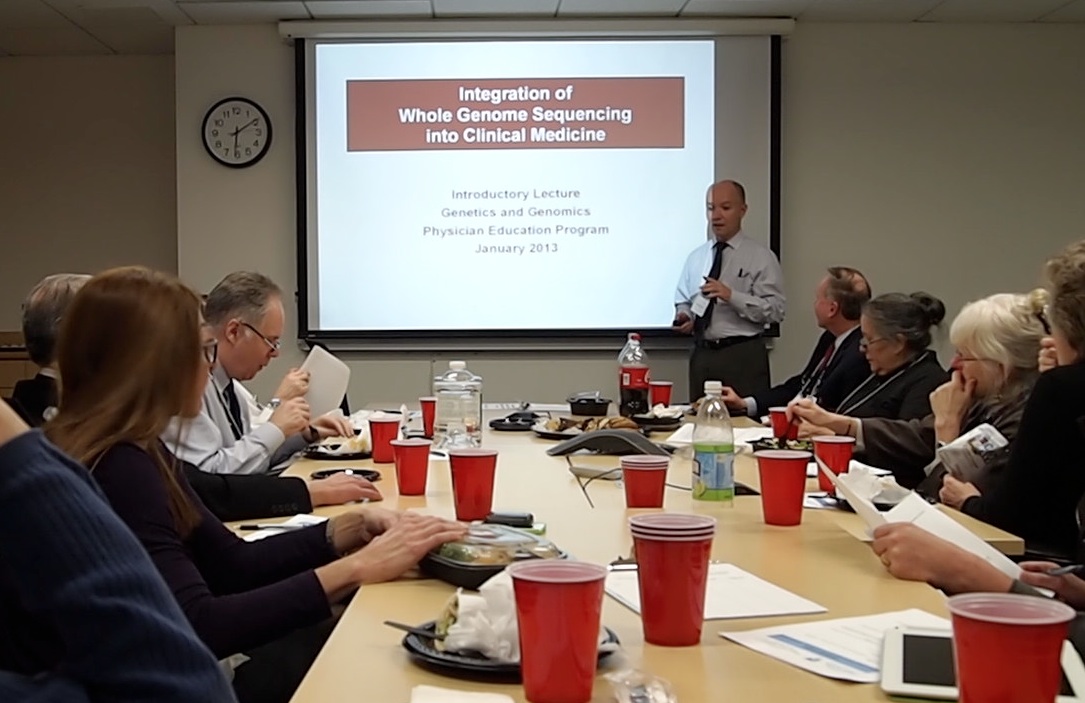 es and 4 hours of online coursework and was accredited by the Partners HealthCare System for a maximum of 6.5 AMA PRA Category 1 Continuing Medical Education Credit(s)™. In addition, we created a MedSeq Project Genome Resource Center (GRC), staffed with medical geneticists and genetic counselors, for the physicians to consult regarding their patients' Genome Report and/or family history information.
Project status
We obtained Institutional Review Board approval in August 2012. We enrolled 11 PCPs, 9 cardiologists, and 202 of their patients. All 100 Genome Reports have been delivered to enrolled physicians and their patients.
Three total MedSeq participants randomized to the control group will have the opportunity to have their whole genome sequenced as part of the MedSeq lottery after they have completed their 6-month surveys. We have drawn 2 of the 3 lottery participant winners and their blood has been collected and the sequence is being analyzed.
We have continued our work on the extension phase of the study, which includes: recruitment of additional African American participants into the sequencing arm and re-phenotyping of participants with monogenic findings. We have enrolled six new African American study participants.
This initiative will significantly accelerate the use of genomics in clinical medicine by creating and safely testing novel methods for integrating information from WGS into physicians' care of patients.
To learn more about this study, or to reach a representative for further comment, please contact Dr. Green, or Carrie Blout, MS, CGC, Genetic Counselor and Project Manager for the MedSeq Project.
Gallery
Preliminary data presented at the National Society of Genetic Counselors 2016
Full list of MedSeq Publications
Images from the Inaugural MedSeq™ Project Retreat
January 30-31, 2012 at the Back Bay Hotel in Boston, MA.

Opportunities to support the The MedSeq™ Project are available.
Please visit the G2P Giving Page to learn more!